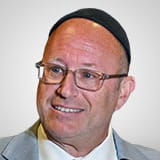 10:00 am to 10:40 am EST
What Does 2022 Have in Store for the Stock Market?
Avi Gilburt, founder of ElliottWaveTrader.net and one of the top-followed analysts on Seeking Alpha, will take you through his analysis to outline what he expects the S&P 500 to do in 2022, and provide parameters to help you stay on the profitable side of the market. He will also give you his longer-term prognostication, which may not sit well with many long-term investors.