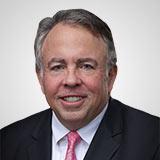 2:00 pm to 4:00 pm
Bond Markets through the Pandemic, the Election, and into 2021*
Your MoneyMasters ℠ instructor is John Mousseau, president, CEO, and director of fixed income with Cumberland Advisors, who has over 30 years of investment management experience. During this in-depth course, Mr. Mousseau will discuss the bond markets thru 2020 and the volatility that they experienced through the pandemic, as well as the effects of various government programs on the bond market and offer a look at bond markets in the new administration.
Bond Markets March - April 2020
The pandemic rears its head: US Treasuries - plunging yields, US corporates - widening spreads, US tax free bonds - unprecedented fund redemptions.
The Fed and the Treasury to the rescue: CARES act and Fed programs
Bond Markets Summer Through the Election
Markets are repaired even while pandemic rages
Ratings hang in there
The state of despair index
Markets sensing the election
Blue wave
Bond Markets Heading into 2021
Government spending
Inflation
Taxation and legislation
Historical yields
Fixed-income expert, John Mousseau, provides you with a look at long-term generational bond markets and examines whether we have gone through an inflection point to help you manage your risk, safeguard your fixed-income investments, and reach realistic financial goals.